COLORFULL is a Sino-Japanese architectural design firm founded in Shanghai in 2011, and has been actively working on design projects in Asia. By utilizing our four advantages, we are committed to creating a rich and diverse range of comfortable spaces for users, making New Normal lifestyle more vivid and COLOR-FULL.
We give full consideration to two aspects in our design -

"optimal

design" and "aesthetic design". "Optimal design" is the design of strategy and content. We analyze the market demand for the space and architecture, the behavioral psychology of the users, and research the surrounding environment in order to propose the most suitable design solution for the project. In "aesthetic design", we meticulously integrate colors and shapes into the space or building based on the proposed optimal solution, to create an amiable space.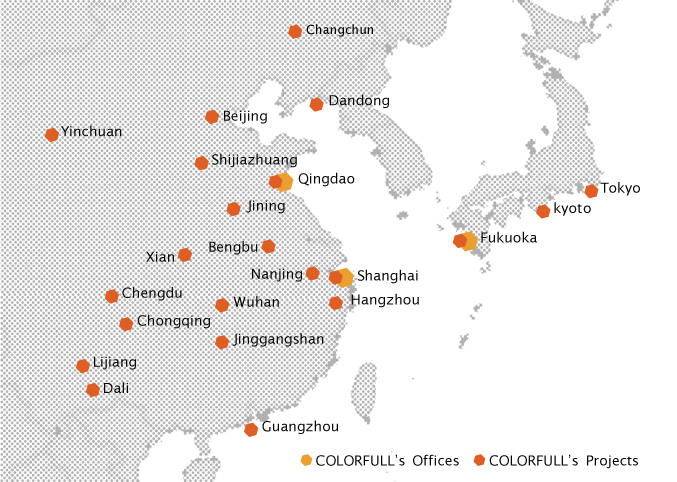 1,Sino-japanese joint design team
Under the joint leadership of Mr. Zhao Zongyang and Mr. Ono Ryosuke, COLORFULL DESIGN adheres to the spirit of "COLORFULL" by bringing together a group of young and energetic Chinese and Japanese designers who blend creative ingenuity with sensitive and meticulous work; while the core management team has over 18 years of industry experience and always maintains a passion for design and innovation. With our headquarters in Shanghai and studios in Qingdao and Fukuoka, Japan, we offer flexible design services to clients in various countries and cities.
2,Pursuit of sustainable urban regeneration
Since its establishment, COLORFULL has always been focusing on design of diversified commercial space (to play), office (to work) and hotel (to live). We consider and respond to the macro environment's plan of "carbon emission peak" and "carbon neutrality", from multiple dimensions of design, and concentrate on sustainable renewal of buildings and spaces. By urban renewal, we hope to preserve the history and characters of buildings and spaces, while revitalizing these existing spaces and environments, so as to contribute to world

'

s "sustainable living".

3,Whole process design service
In order to ensure the quality of each project, we provide whole process design services from concept planning to construction drawings, as well as on-site supervision. With our professional collaboration, innovative design, and comprehensive service capabilities, we provide timely and accurate one-stop design solutions for our clients from project planning to completion.


4,Design solutions for various scales (from 300 to 300,000㎡)
Our projects mainly include commercial space, office and hotel of various scale. We believe that by observing different scale, delving into the sense of comfortable scale in various contexts, and deciphering the distance and spacing between spaces, we can bring about a diversity of design languages. By studying design concepts at different scale, we can come up with a variety of designs that respectively fit with the smallest details as well as the development plans of the city.

Scope of design services
Commercial Projects: Commercial Complex / Community-based Commercial Center/ Anchor Store / Retail Store / Food & Beverage
Office Projects: Office Building / Corporate Headquarters / Co-working / Creative Space
Housing Projects: Boutique Hotel / Boutique Apartment / Boutique Guesthouse
Urban Regeneration: Creative Park / Commercial Transformation / Office Transformation / Apartment Transformation
Architectural Design Service: Conceptual Design / Schematic Design / Expansion Design / Construction Drawing Design / Project Design Management
Interior Design Service: Conceptual Design / Schematic Design / Detailed Design / Construction Drawing Design / Project Design Management / Equipment and Structure Design
Optional Services: Landscape Design / Soft Decoration Design / Signage System Design / Lighting Design / Planning and Positioning / Bidding Negotiation
曾在日本建筑设计事务所工作8年,专注于创意园区、总部办公楼及商业综合体的设计研究,参与设计的项目有8号桥系列、大宁中心广场二期、中润苏州中心等等,积累了丰富的工作经验。2011年成立了上海昱景建筑设计有限公司,近几年设计的项目有飞利浦亚太区总部办公楼、大宁音乐广场、宁汇广场、幸福里•睿园、济宁永润生活广场等项目的建筑和室内空间设计。随着国内外优秀设计合伙人的加入,公司规模日益增长,个人正在向公司的管理和大型项目的管理转型,期望通过不懈的坚持和努力,带领团队创造令人向往的美好未来。
Mr. Zhao, who worked for a well-known Japanese architectural design firm for 8 years, specializes in design and research of creative parks, headquarter office buildings and commercial complexes. He participated in projects including No.8 Bridge, Daning Central Plaza Phase II, and Suzhou Zhongrun Center, having accumulated a wealth of work experience.
In 2011, Mr. Zhao founded Shanghai Yujing Architectural Design Company, and has directed the architecture and interior design of PHILIPS's headquarter in Asia Pacific, Daning Music Plaza, Daning Central Plaza Phase III, G-ART RUI PARK, Jining Yongrun Plaza, etc. in recent years.
In 2017, Mr. Zhao founded a co-working brand named "COLORFULL WORK", which quickly became an incubator and sharing platform for design industry.
As more and more excellent design partners at home and abroad has joined, the company is growing steadily. Mr. Zhao is now focusing more on the management of the company and of large-scale projects, in hope of leading the team to a bright future through unremitting persistence and hard work.
Co-founder / Creative Director / First-class Architect
在日本的设计事务所积累工作经验后,自2004年起,来到上海就职于日本建筑设计事务所,醉心于创意园和商业综合体设计10余年,参与了
陕康里、南京水游城改造、
幸福里睿园
、
越界创意园等项目的设计。此后作为合伙人加入COLORFULL昱景设计。同时,努力将"品牌化 BRANDING"等经济学手段活用于设计之中。每天都在观察城市中的细微变化,并探索着符合时代需求,理想的工作模式、生活方式!
Having been working in Japanese design companies for many years, Mr. Ono came to Shanghai in 2004, and worked at HMA Architects & Designers and Kenji Mantani Studio for over a decade. Particularly interested in creative parks and commercial complexes, Mr. Ono played important roles in many projects, including No.8 Bridge, YUEJIE Park, Aqua

City NJ

and SHANKANGLI.
Since 2012, Mr. Ono is keenly interested in "sharing economy", and he started to do detailed and comprehensive investigations about "co-working space". Meanwhile, he attempts to combine economic approaches, such as "marketing" and "branding", with designing. By paying close attention to the subtle changes in the city, he keeps searching for ideal work patterns and life styles.
徐 驰 CHI XU
合伙人・总建筑师・中国一级注册建筑师

・

注册城市规划师 建筑学硕士
Co-founder / Chief Architect / First-class Architect

/ M.Arch
在国内大型高校综合甲级设计院及日本知名设计事务所工作多年,专注于公共建筑及高端房产类项目设计,尤其在创意园区、旧城改造等城市更新类项目设计中积累了比较丰富的经验,项目范围遍及上海及各大中心城市,参与和主持设计了、上海北虹桥时尚产业园、南京创意中央文化产业园、南京江广创艺工场、南京留创园、西安老钢厂创意园、武汉汉阳钢厂创意园、天津十八所世界之窗创意园等项目设计,同时在办公、教育、医疗、商业、别墅等建筑设计中也有较多优秀作品面世。 在设计中信奉"感性需求、理性设计",既对生活充满热情和感悟,也坚持执着思辨和精心安排,期望设计作品中有一气呵成的触动心灵的感动和震撼!
Having worked for a well-known large-scale design consulting group and a famous Japanese design firm for many years, Mr. Xu specializes in the design of public buildings and high-end real estate projects. Mr. Xu has rich experience in the design of urban renewal projects such as creative parks and old city renovation. He has participated and hosted the design of many projects throughout the country, such as Shanghai North Hongqiao Fashion Industrial Park, Nanjing Creative Central Cultural Industrial Park, Nanjing Jiangguang Creative Art Workshop, Nanjing Liuchuang Park, Xi'an Old Steel Mill Creative Park, Wuhan Hanyang Steel Mill Creative Park, Tianjin C18 World's Window Creative Park. At the same time, there are many excellent works in the design of office, education, medical and commercial buildings. In his design, Mr. Xu follows the creed of "demanding sensitively, designing rationally", which means not only to cherish passion for and contemplation about life, but also to insist on persistent critical thinking and elaborate arrangement, hoping that the design works will have a touch of the soul!
机 电 设 计 部
MECHATRONIC DESIGN
DEPARTMENT
---
结 构 设 计 部
STRUCTURAL DESIGN
DEPARTMENT
---
[/vc_row_inner]
环 境 品 牌 设 计 部
ENVIRONMENTAL BRANDING DESIGN DEPARTMENT
---
[/vc_row_inner]
软 装 设 计 部
SOFT DECORATION DESIGN DEPARTMENT
---